THE MUSTANG MACH E - FORD ENTERS THE ELECTRIFICATION RACE
Mustang. That's an evocative name in the automotive world that conjures up images of Steve McQueen hurtling through the streets of San Francisco or the lawless, but revered rebel kicking up dust as he makes his way through the desert. One doesn't automatically associate it with electrification, not to mention an SUV, but this is 2019 after all and that's exactly what we've got.
The Mustang Mach-E is a supposed competitor to Tesla's Model Y and it has some quite interesting specs. As you may or may not know we're advocates for electrification, despite our deep love for the internal combustion engine. The EVHIRE fleet has two Tesla Model X P100DL's and is awaiting the arrival of a Porsche Taycan Turbo S for hire in London. When a manufacturer as large as Ford enters the electrification race it's unsurprisingly going to catch our attention and as this could be a very compelling competitor to Tesla, we think it's worth exploring this latest car to hold the Mustang name. I warn you, this is a very data heavy blog as we really want to investigate whether or not it makes a strong enough case to be called Tesla's competition.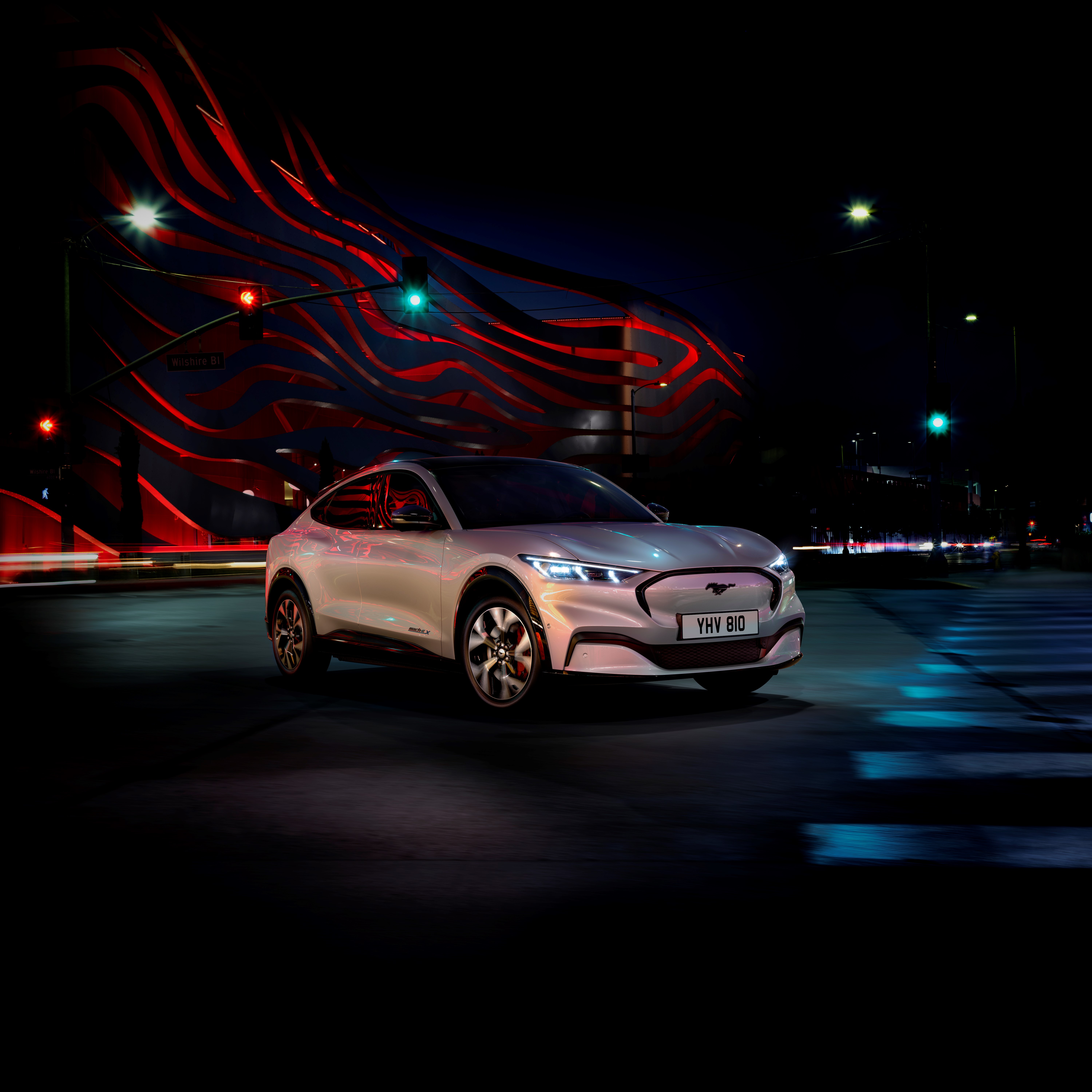 There are currently 3 versions of Mach E: Mach E, First Edition and AWD. Each of these can come in both standard and extended range power output versions. The standard range of Mach-E is powered a 75.7kwh battery system and the extended range is powered by a 98.8kwh battery system. Just as in any other electric car these batteries supply power to electric motors that produce the car's drive. In the base Mach-E there are motors found only at the rear, whereas the other two variants are both dual motor AWD, so have motors on each axle. These different range versions of course produce different power outputs. Firstly, the base model produce 251bhp and 278bhp in standard and extended, respectively. Secondly, the AWD produces 251bhp and 330bhp and lastly, the first edition produces only 330bhp. Torque figures stand at 415nm for the base car and 565nm for both the AWD and First Edition.
The differences in power output affect range more than acceleration, as Ford currently quote their 0-60 mph time as <8s for the base car and <7s for the AWD and First Edition, regardless of the range selected. The base Mach-E has a standard range of 280 miles and an extended range of 370miles. The AWD variant has a standard range of 260 miles and an extended range of 335 miles. The 'first edition' variant only comes in extended range format and matches the AWD's range of 335miles.
One of the biggest concerns that all electric cars create is 'range anxiety' that is, the uncertainty of how much usable range remains, where suitable charging points are and how long it will take to charge. Ford have quoted that in just 10 minutes, at max DC charge rate (which is 115kw for the standard and 150kw for the extended range) the standard range base and AWD can gain 52 and 49miles respectively. In extended range format, the base car can gain 57 miles and the other 2 versions will gain 52 miles of range. The total charge time, which is defined by Ford as between 10-80%, is 38 mins for the standard range cars and 45 mins for the extended range cars.
In addition to these seemingly usable range and charge times, Mach-E looks like a well-equipped car. Depending on the model it can come with either 18 or 19 inch rims, a panoramic roof, adaptive led headlights, B&O 10 speaker audio system, wireless device charging and a 360 view parking system. Each car can seat 5 people and as there's no engine there's storage in the front and rear. The capacity of these spaces is the same in each model, which means there's 100l in the front boot and 402l in the rear (with the seats up), but this is increased to 1420l when the rear seats are laid flat.
So, is this a true competitor to Tesla? It may steal a market share as these are significantly cheaper than the car's they are being put up against, but whether they're better cars will have to best tested on the road. What is more important, perhaps is whether or not these cars truly deserve to hold the iconic Mustang name. That too will be decided on the road. Until then, let us know if you would like to see EVHIRE add a Mustang Mach-E Hire in London.